At the start of 2017, we reached out to our members and the field with the recognition that our country and its citizens were facing a spectrum of challenges, and outlined our commitment to take active leadership around three strategic issue areas: health & safety, bridging divides, and civic learning and media. Seven months later–the challenges we recognized in January have grown–as has the urgency within our field to work toward solutions.
For PACE, recent events have reinforced our commitment to strengthening civic life through philanthropic practice. We launched the Civic Engagement Primer–a tool to guide philanthropies on their journey to understand the civic engagement field, and find a place in it that makes sense for them. The #PACEPrimer is a resource that starts at the beginning: with a definition of civic engagement, and illustrates the various facets of our field so funders can envision the intersections that resonate best with their mission and goals. We also have and will continue working with other philanthropy-serving organizations, including Independent Sector, Council on Foundations, United Philanthropy Forum, San Diego Grantmakers, CEP, GrantCraft, and others to elevate discussions about the importance of philanthropy's role in democracy. We're committed to continuing this conversation and recently launched a Medium channel to support the ongoing dialogue.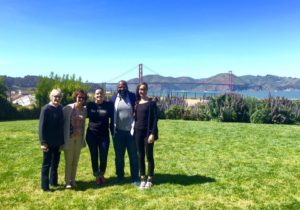 Our commitment to furthering the work of our field has also been reflected through the growth of our team. In addition to our Executive Director Kristen Cambell and long-time Senior Fellow Sally Prouty, we've added Adiel Suarez-Murias as our Communications & Marketing Director, along with two new Engagement and Equity Fellows, Marian Mulkey and Decker Ngongang. Marian and Decker are supported by a generous grant from the W.K. Kellogg Foundation and are leading projects aimed at exploring the key questions we are committed to through at least the end of 2018. While we're focused on understanding the moment overall (as described above), we're maintaining our commitment to go deep on a few questions, and we're making progress on our journey toward exploring each of them. Here's how:
How can philanthropy make investments in civic engagement that increase health and safety outcomes in communities?
To explore this question, PACE is creating a working group to explore the intersection of these issues. It will be led by our Fellow Marian Mulkey, and be comprised of PACE members, thought leaders, and nonprofit practitioners. Together, they will explore the work already underway in this area of focus, identify gaps and opportunities to further our understanding of this work, and share those learnings with our membership and the field. By mid-to-late 2018, we hope to have identified new qualitative intersections and quantifiable connections between civic engagement, health, and safety in a way that makes the case to funders (and leaders in other fields) for new and increased investments and collaborations.
How can philanthropy create spaces for people to come together around complex and divisive issues?
PACE Fellow Decker Ngongang is spearheading an exploration on behalf of PACE to illuminate the seeds of division in civic society, what philanthropy can do to help, and how PACE can cultivate support in this process. The project will unfold over the next few months, centering on a series of comprehensive interviews with key informants with a depth of expertise in bridge-building in the context of civic engagement: nonprofits, intermediaries, and philanthropic institutions with explicit programming focus in civic engagement, as well as other civic engagement leaders. Key themes will be distilled from this expansive information-gathering process to build the project and offer recommendations for the field.
How can philanthropy invest in information and education that prepares people for active civic participation and sustains their involvement over time?
To further the idea that our democracy has reached a crossroads, and that inspiring innovative civic learning will mean the difference in creating a bright future for our nation and its young people, PACE is on the steering committee for the upcoming Democracy at a Crossroads National Summit. Our members McCormick Foundation and the William and Flora Hewlett Foundation are supporting it alongside the Carnegie Corporation of New York. The Summit aims to provide an overview of the current state of civic learning and education, and make the case for new and renewed investment at this moment in time (see more in this in-depth brief).
PACE will also embark on a multi-pronged initiative with the National Conference on Citizenship called "Exploring Civic Learning as a Pathway to Equity and Opportunity." It will start with a dinner salon at NCoC's Annual Conference in October. This salon discussion will explore the intersection of civic learning and equity, and aim to identify concrete and tangible recommendations for the ways in which this connection can be illuminated and strengthened. These recommendations will be released broadly in a brief, in order to continue the conversation beyond the event. Subsequently, in early 2018, PACE and NCoC plan to culminate this collaboration with a working session (supported by the Kettering Foundation) to discuss the recommendations and begin the development of action plans to ensure the recommendations can be implemented and realized.
Throughout our work in each of these issue areas, we're actively exploring how to both advance and represent equity, and the diversity and inclusion (including of perspective and experience) that are core values of our work. It is also increasingly critical to keep the ideal of "active citizenship" at the forefront of public discourse. Rather than isolate these values as separate focus areas, we feel it is most meaningful to integrate it into all of our work, into our organizational culture, and help to advance dialogues about furthering these frames (and the opportunities and challenges within them) throughout our field.