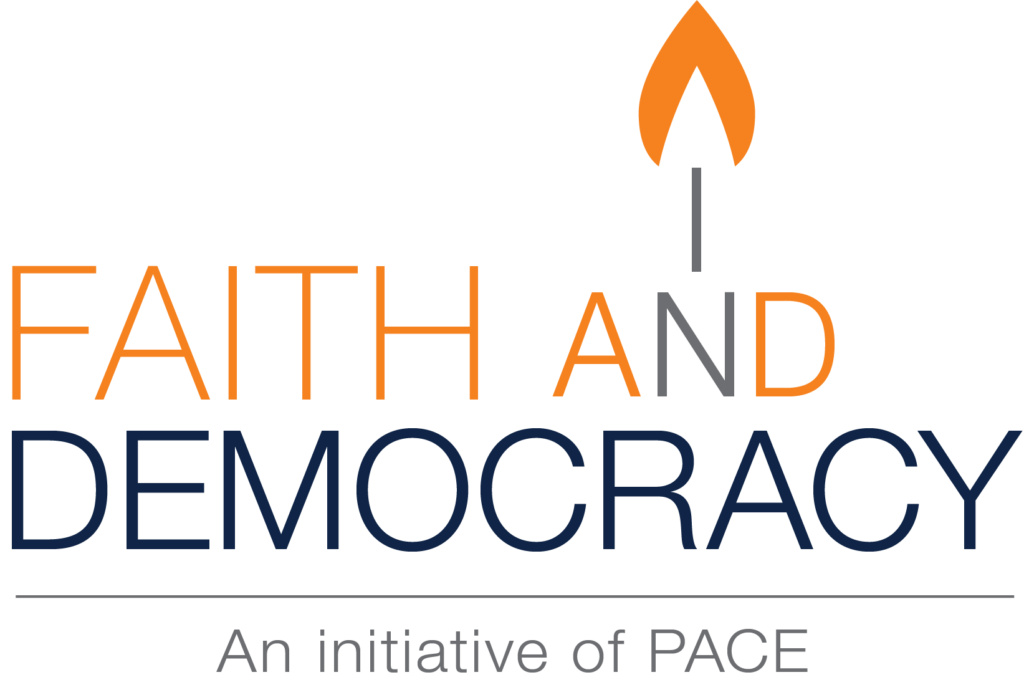 [Washington, D.C. September 14, 2021]—
Faith In/And Democracy
is a funding and learning initiative led by Philanthropy for Active Civic Engagement (PACE) to explore the ways faith and faith communities support democracy and civic life.
Today, PACE announces the expansion of this initiative heading into its third year. The Henry Luce Foundation and the McKnight Foundation join the Fetzer Institute, the Democracy Fund, Lippman Kanfer Foundation for Living Torah, and the Ford Foundation in pooling resources to support organizations working at the intersection of faith and democracy. These combined contributions will enable the three-year pooled fund to distribute over $1 million in grants by August 2022.
"The Henry Luce Foundation is delighted to support this creative and experimental initiative, and honored to join an already vibrant learning community," said Luce Foundation program director Jonathan VanAntwerpen. "As our democracy faces a mounting range of complex challenges, we have a collective responsibility to deepen our understanding of the role of diverse faith communities in a thriving democratic culture, and to critically explore the wide range of public locations in which religious ideas, and ideas about religion, are produced and circulated. We deeply appreciate PACE's leadership of the collaborative efforts this work requires, and we are grateful for the opportunity to learn alongside an innovative group of philanthropic peers and organizational partners."
Grantees of the Faith In/And Democracy initiative join funders and faith leaders in a year-long peer Learning Community that serves as a "laboratory" to test key questions about the influence of faith communities on democracy and civic life; specifically, how faith leaders and organizations inspire civic leadership, build civic character, preserve and sustain civil rights, and support and bridge their communities through cultural flashpoints. Insights from the initiative's learning journey over its first two years can be found at PACEfunders.org/faith-learnings. In its third year, the Learning Community will welcome additional organizations to diversify the perspectives that shape the learnings of the initiative.
Faith In/And Democracy 2021 Grantee Partners:
America Indivisible; Washington, DC (@america.indivisible on Instagram)
American Muslim Advisory Council; Nashville, TN (@AMACtn on Twitter)
Chicago Theological Seminary; Chicago, IL (@CTS_Chicago on Twitter)
Fairbanks Climate Action Coalition; Fairbanks, AK (@FBXClimate on Twitter)
Faith in Indiana; Indianapolis, IN (@faithinindiana on Twitter)
Faith Matters Network; Nashville, TN (@faithmattersnet on Twitter)
Ideos Institute; Los Angeles, CA (@ideosinstitute on Twitter)
Inclusive America Project at the Aspen Institute; Washington, DC (@aspen_iap on Twitter)
ISAIAH; St. Cloud, MN (@ISAIAHMN on Twitter)
Live Free Illinois; Chicago, IL (@livefreechicago on Twitter)
Neighborly Faith; Raleigh, NC (@NeighborlyFaith on Twitter)
NM Comunidades en Acción y de Fe (CAFé); Las Cruces, NM (@OrganizeNM on Twitter)
Northern Virginia Hebrew Congregation; Reston, VA (@NVHCReston on Twitter)
One America Movement; Washington, DC (@One__America on Twitter)
One Table; National Headquarters New York, NY (@​​onetableshabbat on Twitter)
Shalom Hartman Institute of North America; New York, NY (@SHI_America on Twitter)
Turn the Page Center for Urban and Adult Development; Harvest, AL (@turnthepage2015 on Instagram)
Virginia Interfaith Center for Public Policy; Richmond, VA (@vainterfaith on Twitter)
Western States Center; Portland, OR (@WStatesCenter on Twitter)
Wisconsin Council of Churches; Madison, WI (@wichurches on Twitter)
"In the first year of PACE's Faith In/And Democracy initiative, we confirmed our hypothesis about the positive impact of faith leaders and organizations to bridge difference and inspire civic engagement," said Kristen Cambell, CEO of PACE. "In the second year, we deepened our understanding of the field and specifically sought to learn about the traits and conditions of faith leaders and institutions that make them effective bridge-builders. A major learning across both years is that philanthropic investment in the faith/democracy field is small compared to the need, opportunities, and potential benefits. That will be our focus in our third year."
To learn more about Faith In/And Democracy, please visit PACEfunders.org/faith.
---
PACE (Philanthropy for Active Civic Engagement) is a philanthropic laboratory for funders seeking to maximize their impact on democracy and civic life in the United States. Our members share a belief that America will be healthier and more successful, resilient, and productive, if democracy is strong and the office of citizen is treated as central to how it functions. We believe that American democracy will thrive when all of its people are informed and engaged in the process of creating it. Visit: PACEFunders.org; follow @PACEFunders