We cannot have a conversation about civic engagement without talking about democracy.
Over the last few years, the philanthropic community has increasingly turned its attention to democracy. As a result, PACE has experienced a corresponding increase in questions about democracy and its relationship to civic engagement.
We don't have all the answers, but we do have a resource that serves as a primer to help our community understand: "What Is Democracy?" The PACE Primer: Democracy is a resource designed to explore that question and help funders assess their interest and understanding in democracy, and ultimately, help them along their journey toward integrating or prioritizing it in their work.
PACE Primer: Democracy has two components:
a visual that charts a pragmatic list of civic practices across the five elements in strong and healthy democracies, and
a glossary of terms to describe and clarify the visual.
Click on the snapshot below to see the full tool: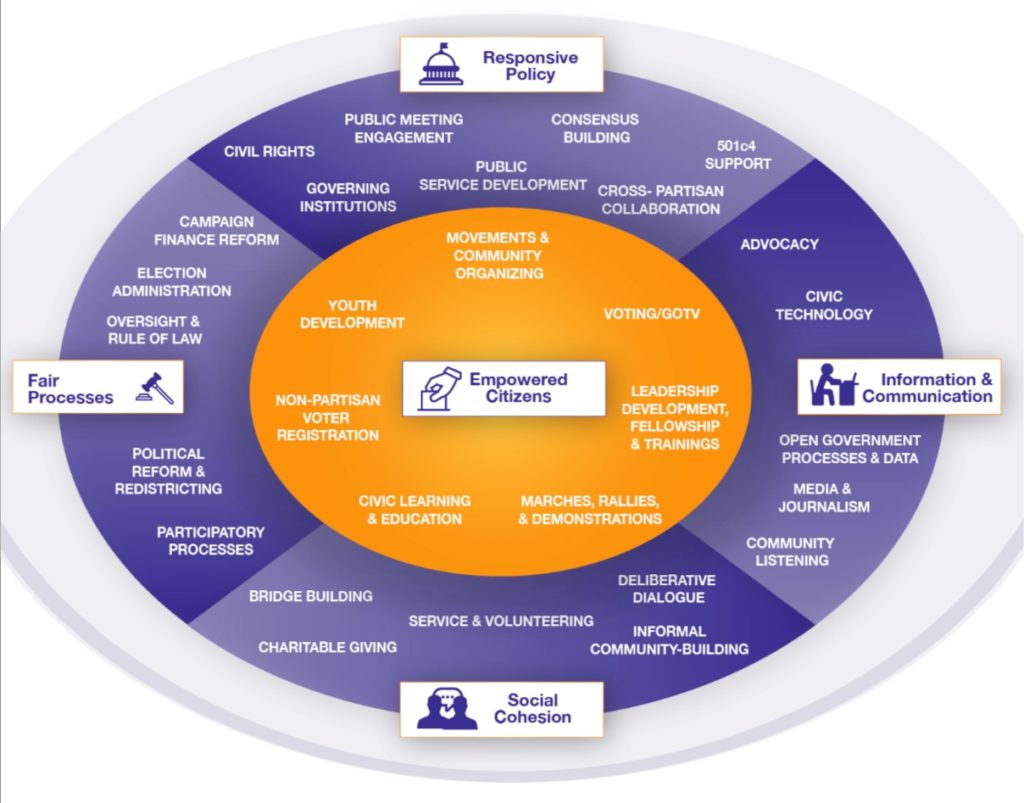 We encourage you to use and share PACE Primer: Democracy, and join the conversation on Twitter at #PACEprimer.
The five elements are drawn from research by the Center for High Impact Philanthropy (CHIP) and its Toolkits for Strengthening Democracy, which provide guidance for funders and nonprofits looking to strengthen our democratic system.
PACE thanks our field colleagues, Amy Baker McIsaac and Cameron Blossom, for their leadership in conceptualizing and designing the resource, as well as Lodestar Foundation for the support to make it possible. PACE also thanks its many partners — especially CHIP and the Democracy Funders Network — who helped inspire ideas that made this resource stronger and provided feedback during its development.
If you have questions, feedback, or suggestions on how we can improve this resource, please email us at info@PACEfunders.org.