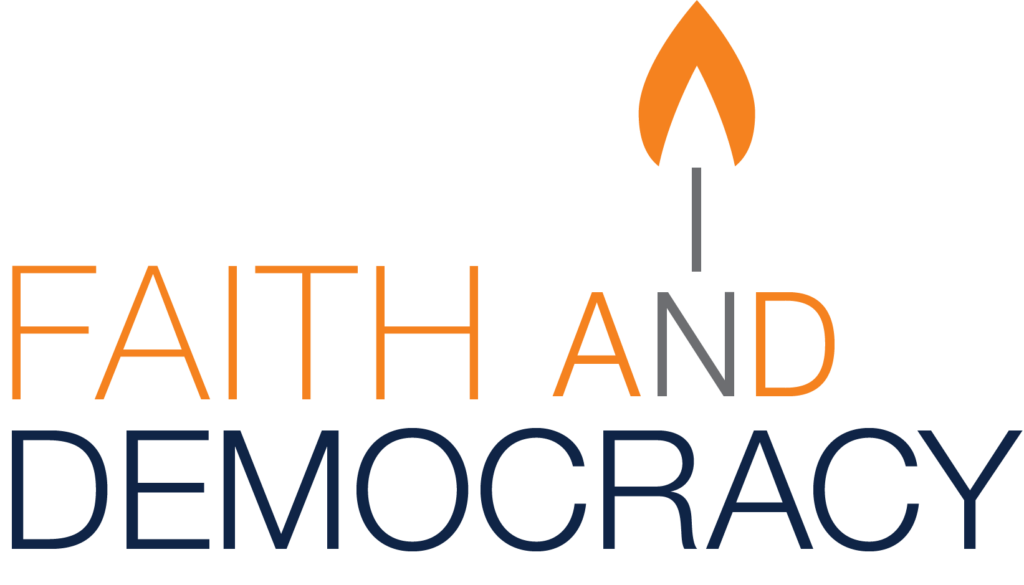 Faith In/And Democracy is a pilot funding and learning initiative led by Philanthropy for Active Civic Engagement (PACE) to explore the ways faith and faith communities can support democracy and civic life. "With this project, we hope to uncover the power and potential of faith communities to ease the divisions that plague our political, civic, and social processes," said Kristen Cambell, Executive Director of PACE. "At this decisive time for our democracy, we were humbled to learn about the depth and breadth of work happening at this important intersection, and are thrilled to amplify a piece of it through this effort."

A nationwide Request for Proposals was issued on May 31 and closed on July 1, 2019. After through review by the program's Advisory Committee, in August 2019, five grantee partners were selected from a diverse and extremely competitive pool of 132 applicants representing 34 states and the District of Columbia. To learn more, visit our Program page and this list of additional resources. To view the grantee cohort announcement, click here.
The initiative is inspired by PACE members and catalyzed in partnership with the Fetzer Institute, the Democracy Fund, and a program Advisory Committee. In addition to funding these 5 projects, PACE will launch a cohort-based, year-long peer Learning Community for those engaged with the initiative. This Community will act as a "laboratory" to test key questions about learning and impact, and reflect those learnings to funders, nonprofits, and our fields more broadly.
In early 2020 — about halfway through the pilot — we caught up with all five of the cohort participants to get a status update on their projects thus far, and released a series of interviews (see below) to highlight their leadership and share more about their learnings part way through their projects. Michael Wear, a member of the Learning Community kicked off the series with a reflection from the learning community's initial gathering in Charlottesville, Virginia and Chris Crawford of the Democracy Fund closed out the series offering a funder's perspective on the potential for scaling faith-based civic engagement.
Faith In/And Democracy Cohort
This project will train clergy and people of faith to use the Race Class Narrative–based on the work of communications expert Anat Shenker-Osorio, whose research produced messages that reduced racial polarization–to engage in events and conversation that bridge difference and lead to action. The three methods it will employ are: 1) train clergy to change public conversation, 2) create conversations within faith communities, and 3) hold deep conversations with voters about the politics of faith, race, and division. They will work in three different Indiana counties, each experiencing painful divisions between communities, including urban/rural, Christian/Muslim, native-born/immigrant, and racial divides. The hypothesis this project hopes to prove is that bedrock faith values and religious institutions can reach "beyond the choir" to provide a foundation for cross-racial solidarity and democratic participation.
This project will empower people of Southern Minnesota to bring their religious values into the political arena and embody them through prophetic acts of justice and compassion. In five communities across the region, ISAIAH will convene leadership teams, host listening conversations and retreats, train people to caucus in a nonpartisan way, and work through congregations to encourage civic participation. The organization's theory of change is that the core principles of faith (and the trusted messengers of clergy and religious leaders) can help communities bridge partisan divides and reduce divisions in communities. The hypothesis for this project is that this methodology can also reduce racial polarization, promote common understanding, and reengage people with civic life.
This program will mobilize young Evangelical leaders on college campuses to address systemic fear and bigotry toward Muslims and to introduce inclusive democratic values. They will do this by empowering Evangelical students on 10 college campuses to train their peers to become ambassadors for "principled civic pluralism and Muslim friendship," and by equipping them to do interfaith bridge-building in other aspects of their lives, off campus. The cumulative goal is that Evangelical campuses with thousands of future Evangelical leaders will have on-campus initiatives devoted to connecting young Evangelicals' faith with principled pluralism and interfaith service and advocacy, as well as combatting Islamophobia.
VICPP will engage 30 immigrant congregations across the commonwealth to collaborate with 10 of their existing chapters, which are comprised of Christian, Jewish, and Muslim clergy and lay leaders. The project will prioritize relationship building between the congregations and the chapters, and engage them together on discussions of issues that are priorities for immigrants. Together, they will explain processes and opportunities to be involved in civic life and develop multi-lingual educational tools for immigrant congregations on civic engagement. There will be priority focus on mosques, Hindu temples, and Latinx and Korean communities, which have been less likely to be engaged in VICPP's work to-date.
Clergy and laity in Wisconsin express reluctance to engage in the political process for fear of crossing partisan boundaries or causing conflict in the congregation. This project proposes using the expertise, credibility, and consistency in faith-based public engagement of several trusted organizations to offer congregations an on-ramp to this work through nonpartisan voter education, registration, and turnout efforts. Committed partners include Wisconsin Faith Voices for Justice, Muslim Women of Madison, and Christ Presbyterian Church. Goals include: building increased understanding and stronger ties among different faith communities; increasing engagement in electoral processes, and generating a greater understanding by faith communities of the influential role they can play in the public square.
---
For a compilation of additional references, please check out the resources below: