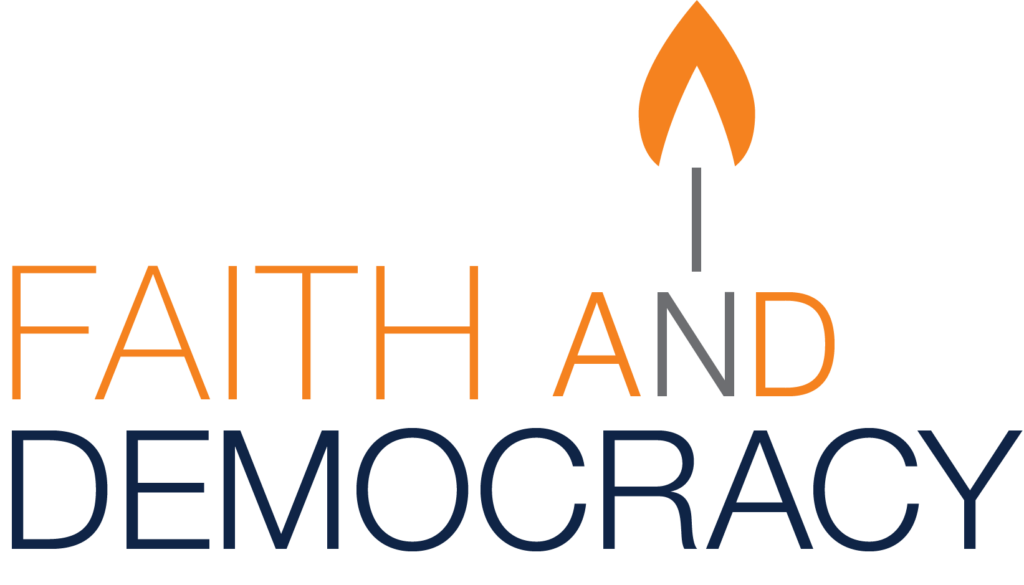 Launched in 2019, Faith In/And Democracy (FIAD) is a funding and learning initiative to explore the ways faith and faith communities support democracy and civic life. PACE leads and administers this initiative because we believe faith can ease divisions that plague our political processes and social fabric.
With contributions from six grantmakers totaling over $1 million, Faith In/And Democracy is a three-year pooled fund, which–to date–has awarded 31 grants to organizations working at the intersection of faith and democracy. The pooled fund also prioritizes learning as a co-equal objective. Each year of the initiative, PACE runs a cohort-based, year-long peer Learning Community for those engaged with the initiative. We see this Learning Community as a "laboratory" to test key questions about learning and impact and reflect those learnings to funders, nonprofits, and other fields more broadly. Our theory of change is that fellowship and collective learning can lead to new understanding and new action for both those who do the work (practitioners and community leaders) and those who support the work (funders and other civic leaders).
FIAD's Evolution Across Years 1 and 2
In the first year of PACE's Faith In/And Democracy initiative, we administered a competitive grant process that provided grants to five projects. Through our work as a Learning Community in the first year, we confirmed our hypothesis about the positive impact of faith leaders and organizations to bridge difference and inspire civic engagement. In the second year, we supported six projects, deepened our understanding of the field, and specifically sought to learn about the traits and conditions of faith leaders and institutions that make them effective bridge-builders.
A major learning theme across both years was that philanthropic investment in the faith/democracy field is small compared to the need, opportunities, and potential benefits. A recent Bridgespan report further underscored this as well, and we want to continue inspiring funders and other civic leaders to harness the power and potential of faith and religion as both a force for problem-solving and strengthening democracy writ-large.
FIAD's Current Work in Year 3
Throughout all aspects of its work, the initiative seeks to engage this framing question in 2021-2022:
What is the influence of faith communities on democracy and civic life? While we are interested in this question overall, we will specifically explore how faith leaders and organizations inspire civic leadership, build civic character, preserve and sustain civil rights, and support/bridge their communities through social and political flashpoints.
To do this, year 3 of the initiative will build on its two successful previous years and operate with a two-pronged approach: 1) expand and diversify the FIAD Learning Community and 2) operate the FIAD Fund, a participatory fund to generate new evidence of faith's influence on democracy and civic life, as guided by the Learning Community.
The Learning Community will explore core questions related to the ways faith and faith communities support democracy and civic life and share its learnings with the civic philanthropy field. Its goals are to:
collaboratively explore questions about what is needed to advance the practice of faith-inspired democracy work,
add to the body of knowledge that might inspire investment and promote engagement at the intersection of faith and democracy.
The FIAD Fund will support ideas and projects to generate evidence the Learning Community feels is critical to catalyzing more support for the field of practice (from funders and others). Its goals are to:
incentivize learning by members of the Learning Community
support projects that build the evidence case around faith's role in and influence on democracy and civic life.
We share more details about our journey that brought us to this focus for year 3 in this piece and press release.
---
For more about what we are learning from this initiative, please visit:
All other questions can be directed to Faith@PACEfunders.org. Sign up for our newsletters to receive periodic updates on this and other PACE programs.