As part of our exploration into youth civic engagement and community health and safety, PACE invited several young people to speak to their experience of change in their own communities. This story is from Yomira Zamora, a response to PACE's recent report: "Youth Civic Engagement for Health Equity and Community Safety: How Funders Can Embrace the Power of Young People to Advance Healthier, Safer Communities for All."  To read the full report and learn more about this initiative, click here.
•     •     •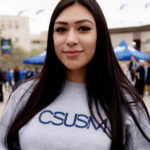 I grew up in a barrio in southeast San Diego, where I witnessed extreme poverty, gang violence, ongoing police surveillance, and more recently, an emerging process of gentrification affecting many members of my community. I also witnessed many youth — including my two older brothers — being funneled into the school-to-prison pipeline; they were pushed out of school and into the criminal justice system. At the time, I was deeply aware of the disparities between my neighborhood and the more affluent surrounding neighborhoods, as well as the ways environmental injustices negatively impacted the wellbeing of marginalized communities, but I did not have the academic language or theories to articulate the systemic barriers impacting my community.
Funding youth-led organizations or programs is not just an action for the present moment, but rather an investment for the health and public safety of our future societies.
As an undergraduate student, I devoted my studies to researching strategies to reverse the school-to-prison pipeline and build, in its place, a prison-to-school pipeline. I started working in the non-profit sector with middle-school-aged youth from working class communities of color, and for three years, I've mentored, educated, and learned from the youth I work with.
Based on these experiences, there is no question in my mind that youth should always be involved in every aspect of decision-making regarding policy or advocacy efforts in their communities. Youth are primary sources for issues in their own environments where they face inequities every day. Youth have valid stories to share with voices that need projecting. Funding youth-led organizations or programs is not just an action for the present moment, but rather an investment for the health and public safety of our future societies.
As a young person, I didn't realize my story mattered. My studies in environmental and systemic injustices in communities of color have allowed me to grow professionally and personally as a young mentor and mentee. It wasn't until I did a case study on Barrio Logan, the neighborhood where I grew up, that I realized I have to share my story so that I can help others in communities facing similar struggles.
As stated in PACE's report, 61% of youth of color experience some form of trauma, versus 45% of the overall youth population. My own traumas stem from limited resources in my community and a lack of role models or people in positions of power that look like me. I always thought that if my brothers and my family had the means and resources like other predominantly white or wealthier communities, we would've had a healthier lifestyle. So after witnessing many of my friends and family funneled into the school-to-prison pipeline, I made a commitment to shift paradigms and create change within my community by going to school, learning trauma-informed care, and developing myself into that role model I needed when I was growing up. Today, I know I was able to succeed this far because of the support of other mentors, who not only believe in me and my story, but invest in my future.
When we talk about safety, we must talk about trauma, and the experiences of youth in their communities. Youth ages 15–25 are primary sources to the nuances taking place in our communities; they are born into communities that were designed by previous generations. Youth are valuable and unique resources in creating change. Furthermore, youth are usually the ones being targeted by the programs in their communities, and benefiting from state-issued aid. And yet, young people are often ignored or silenced, which makes them feel worthless and powerless, which can, in turn, lead to other unhealthy activities. Allowing them to be key members in decision-making and civic education alongside adults can intervene in unhealthy behavior or activities, and significantly impact the programs in question for the better.
I recently launched a youth council program that specifically targets "justice involved youth," or youth that have been pushed out of traditional schools and funneled into community or alternative schooling, and eventually in juvenile detention. We believe that through mentorship, youth civic engagement, trust building, and intergenerational advocacy, we can interrupt the barriers hindering these young people from using their power and voice to their fullest potential. This work needs a lot of investment, not just fiscal but also investment of time. Mentors need to attend trainings for trauma-informed care, trust building, and policy and legislative affairs. Youth will need to attend conferences and symposiums related to youth civic engagement and emphasizing youth voice through movements of empowerment. Resources like scholarships, financial aid assistance, housing and food support, mental health, and public safety need to be provided consistently, and that wouldn't be possible without those in positions of power funding these programs and, most importantly, believing and trusting in youth.
Youth are the future, and the leaders we have all been waiting for. It is crucial to invest in youth-led organizations or programs. It is time to project youth voices and experiences to persuade state and federal representatives to believe in youth and invest in their future. It has been a combination of my unique background, my undergraduate work in Criminology & Justice Studies, activism in programs and policy supporting marginalized communities, and a thirst for intellectual challenges that have fueled my desire to pursue a Juris Doctorate. I am one of those youth that has been empowered through many programs, organizations, and people that believed in me and I am now paying that knowledge forward to younger generations that will be leading social justice movements and creating change globally to make our communities healthier and safer. There can be many more like me, if those in the position to make it possible are willing to make it a priority.
---
About the Author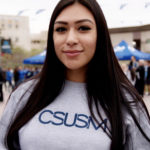 During her high school trajectory, Yomira's father was deported to Mexico and her family would travel back and forth to reunite. This struggle to remain as a single family unit motivated Yomira to stay disciplined and continue to fight for her education, as it faced many challenges. Through her lived experiences in her community, Barrio Logan, she was inspired to pursue a career in Law and politics. Throughout her undergraduate career, she focused on research around laws and legislation that hinder youth of color from abstaining a proper education. She earned her B.A in Criminology and Justice Studies and it became her avenue to advocate for historically marginalized communities and youth of color. She's dedicated her free time to giving back to her community by interning at the Juvenile Detention Facility, and Girls Rehabilitation Facility to be a mentor for those young womxn in need of support. She is also an afterschool teacher, working with predominately youth of color in preparing them for college. She has founded many youth-focused programs with an emphasis on civic engagement and education. In her role as Legislative Affairs Representative for CSUSM's Transitions Collective student organization, she has launched many programs like the Transitions Youth Council which consists of justice-involved youth and prepares them with the skills and tools to be civically active in their communities.